Gujarat State's First Private Digitized Shree Sai Homeopathic Hospital is the Latest, Largest & undoubtedly the most Modern Technological Development in the history of the Gujarat state & amongst Asia's Largest Homeopathic Hospitals of its kind, dedicated to the practice, promotion, clinical research and education in homeopathy. Shree Sai Homeopathic Hospital is a step towards Dr Krutik Shah's dream of making homeopathy a major medical system to help millions in future.

We as a team are committed to offer the best of quality treatment, setting up international standards in Homeopathic practice. Highest standards in practice, scientific documentation, ongoing research in different clinical areas, excellent support system for patients, patient education, etc. are some of the strengths of the hospital. Shree Sai Homeopathic Hospital has Pioneered Online Homeopathic Treatment which has made it possible for literally any one from anywhere in the world to get treated with convenience, sitting at home. Team of Shree Sai Homeopathic Hospital is just a click away from anywhere in the earth.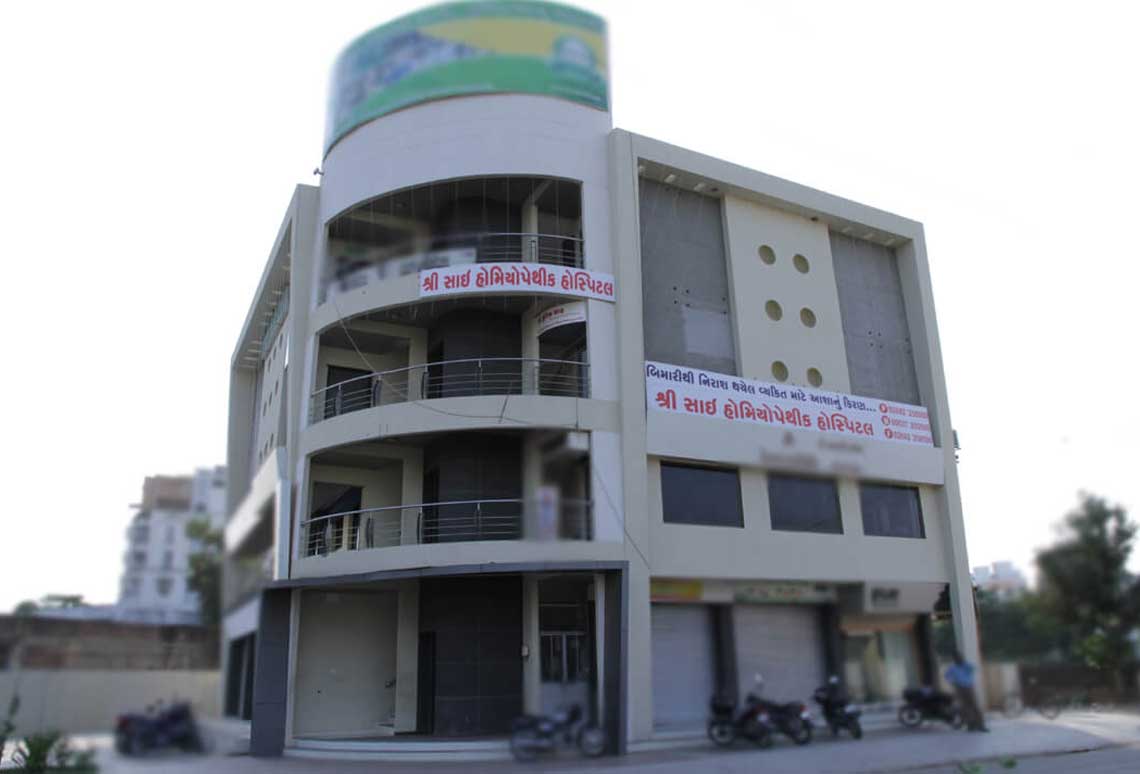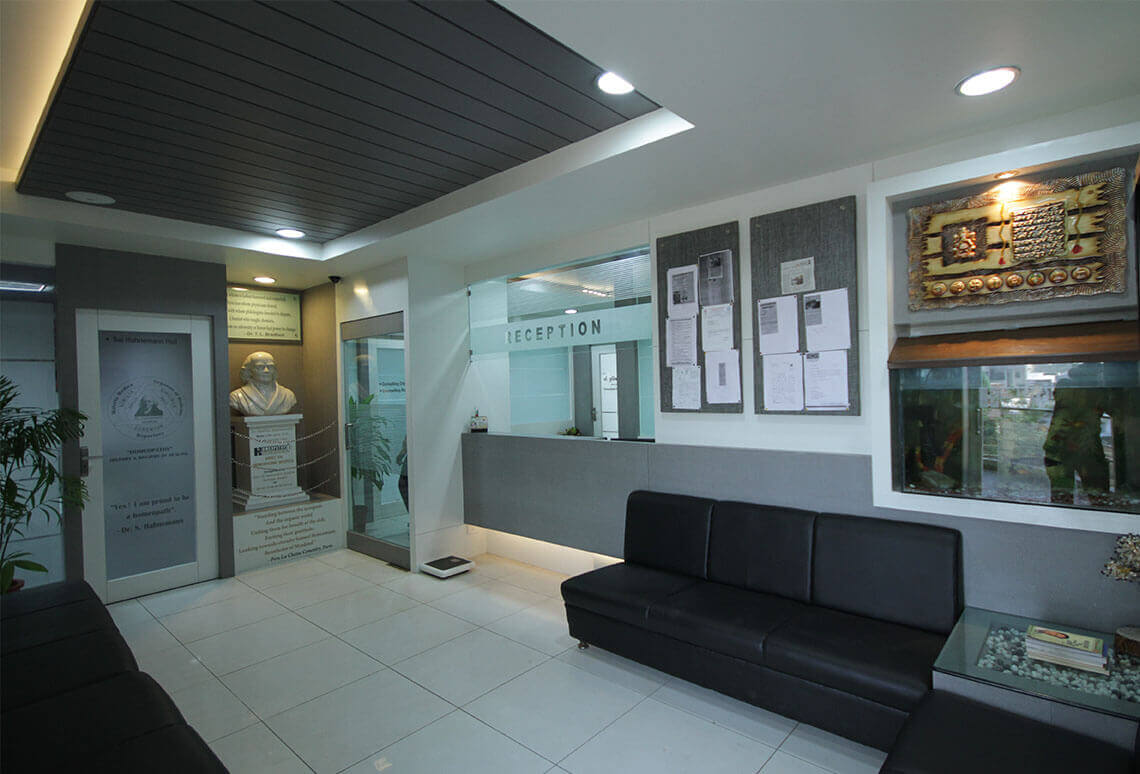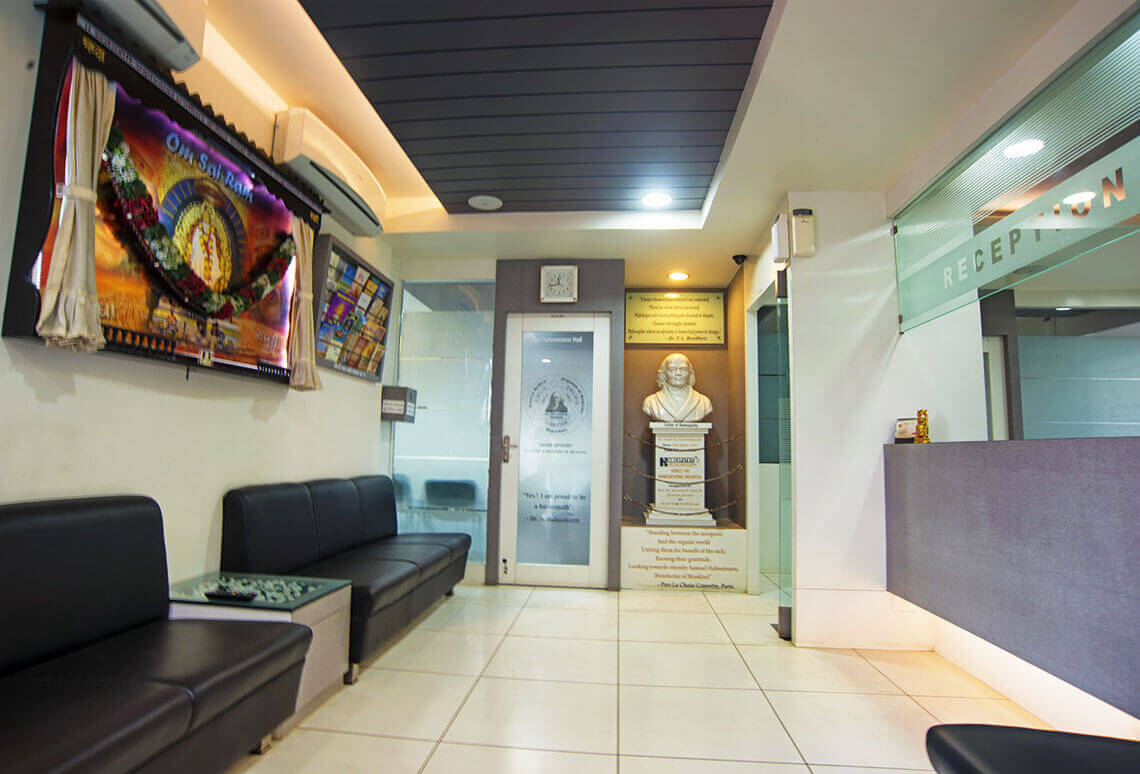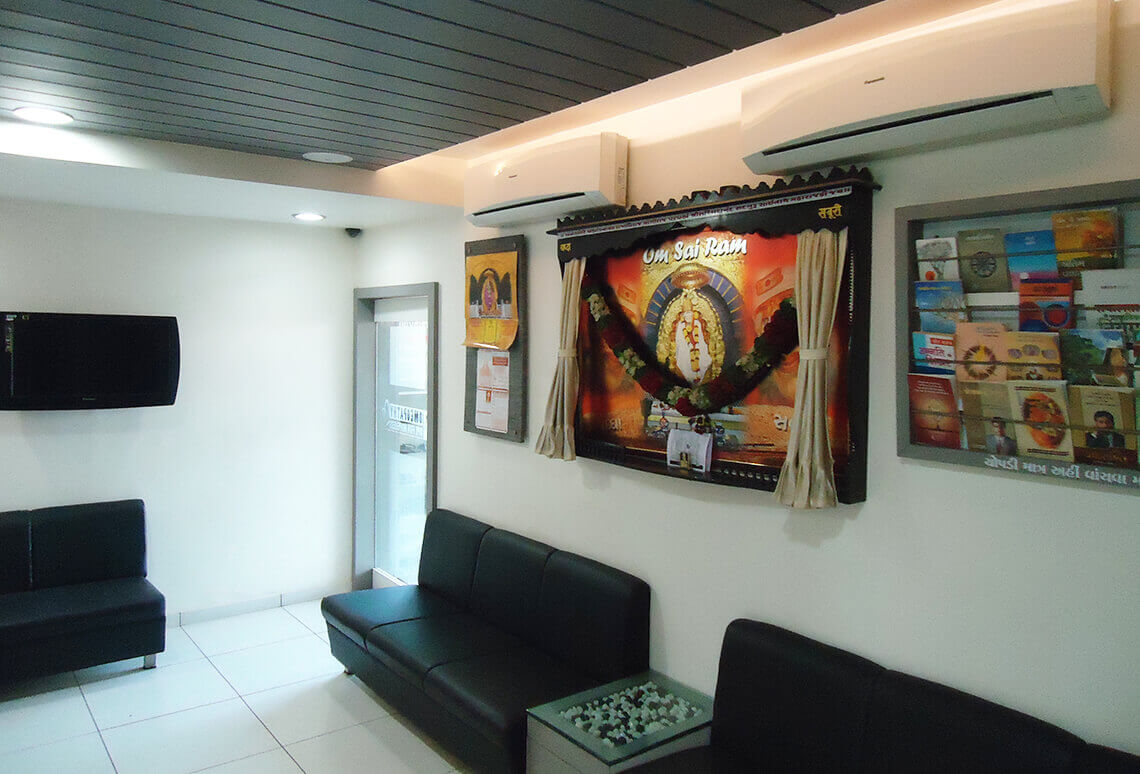 Location
Gujarat State's 1st Private "Shree Sai Homeopathic Hospital" is located in the heart of the town, Anand. Anand is known as the Milk Capital of India, famous for Amul Dairy being the largest dairy in Asia & 2nd Largest in the World, founded by Late Dr. Varges Kurien is situated here. This prime location is easily approachable by people of various cities like Bombay, Ahmedabad, Baroda etc. It is in close vicinity of Central Bus Depot, Railway Station, Express Highway and Airport. Get Direction
---
Structure of

The Hospital
1. RECEPTION & WAITING - "Service Beyond Self"

Best possible air-conditioned environment having Idol of Dr. Samuel Hahnemann, Divine photo of Shree Saibaba and Children play area produces a dynamic effect to the visitors of the hospital. Reflection of actual bliss and peace including the spiritual & motivational books create vibrant environment & healing energy received at the other end.

2. CONSULTING CHAMBERS FOR TEAM OF HOMEOPATHS - "Care, Commitment & Compassion"

"Well taken case is half cured". We are providing best possible environment to the patient in the journey to discover own self, supported with video recording systems with most advanced software of homeopathy installed in computers in order to provide best possible qualitative homeopathic treatment. We have taken care of almost all the possible possibilities to prevent failure in a case and methodologies to be adopted in failing cases in all the consulting chambers.

3. MAIN CONSULTATION CHAMBER - "Excellence and Care"

• A well & neatly arranged main consultation chamber provides soothing and calming effect as soon as one enters into it. Warm welcome, friendly attitude and appearance of Dr. Krutik Shah gives memorable experience to the patient. It is well equipped with all technical facilities for the E – Consultation with a close monitoring under the direct observation of Dr. Krutik Shah. Experience the fresh air and friendliness of room with religious environment in the chamber conveys a strong message to the patient "We treat, Sai Cures" through the best possible & honest efforts of Dr. Krutik Shah & his team.

4. INDOOR PATIENT DEPARTMENT (IPD) - "INcurable = curable INSIDE!"

Can Homeopathy treat cases which need the Hospitalization? & that to even, without Injections & Bottles? The answer is "Yes".

We are proud to inform that under able leadership of Dr. Krutik Shah – We as a team of 9 doctors, have established Gujarat's first-ever fully established IPD rooms having all the amenities for the best possible comfort of the patient. Acute Cases are admitted & treated under the direct observation by panel of doctors which is necessary in many cases for the speedy & effective recovery. With the kind consent of the Patients & Experts of Modern Medicine – Patients are being treated homeopathically wherever they are admitted in the allopathic hospitals under the observation of experts of Modern Medicine.

5. DOCTORS' ROOM - "Meeting place of Beautiful Minds"

A place where homeopathic knowledge and experience grows by leaps and bounces!!

Facility for study and Group Discussion on difficult cases is provided which leads to execution of best possible treatment in every case.

Library with a wide variety of books & most advanced software of homeopathy installed in computers guides the zealous homeopaths for the best possible service in every case.

6. MEDICINE ROOM - "PROMISE for no comPROMISE"

"Quality is expensive but lack of quality is even much more expensive in terms of suffering, time, money, energy etc.."

---

Standard and most authorized medicines from the world's best pharmacies available at one place is a non-verbal message in itself to achieve best possible quality of treatment. Administration of the medicine in every case is thoroughly guided & monitored automatically by our rarest of the rare achievement Patient Date Management Software – SAI.

7. Samuel Hahnemann CONFERENCE HALL - "Proud to be a Homeopath!"

Samuel Hahnemann Hall is the place where re-study or re-view of the difficult cases being done with a team of enthusiastic homeopaths for better qualitative evaluation of homeopathic treatment. Live Case Transmission from the hospital to the Samuel Hahnemann Hall for the incurable and advanced cases with the kind consent from the patient for the better qualitative treatment where best of the minds work together for a case.

8. CENTER FOR HOMEOPATHIC RESEARCH - "IMPOSSIBLE = I M Possible"

Like all other medical fields, Homeopathy is ever growing science too. Samuel Hahnemann Academy for Homeopathy is an Academic and Research Division of Gujarat State's 1st Private Shree Sai Homeopathic Hospital. The Center is conducting research regularly and is connected with the other homeopathic schools in Classical Homeopathy, Nationally & Internationally.

Currently, We are working on a Research Project – "Role of Homeopathy in Anti – Radiation & Palliative Care for Cancer Patients – A Project for the Poorest Poor" in Collaboration with the Oncologists & Community Experts of Shree Krishna Medical Hospital, Karamsad which is the 3rd largest Multi – Specialty Hospital of Modern Medicine in the state of Gujarat. We as a team, come up with the statistical evaluation on the number of the cases seen at the end of the month with a common aim to explore the world of homeopathy beyond horizon by following the statistics in Homeopathy based on internationally validated protocols.

9. Digital Infrastructure & Amenities

Shree Sai Homeopathic Hospital is one of the most equipped homeopathic hospitals in the country & world.

Very few Homeopathic Organization in the country & world are able to achieve such a technological development as we have been fortunately which are as follows:

---

1. Video Recordings for New as well as Old Cases

All the Patients are having Video Recordings for New as well as Old Cases to determine the long term effect of the medicine & success of the case.

This becomes extremely essential if we either get a failure in the difficult + complicated case or slow results in a seeming curable + easy case. This is extremely instrumental for us in cases of Review Consultation & Consultation for Filed Cases

2. Patient Data Management System - SAI

Since the inception of Shree Sai Homeopathic hospital, we have come across many technical problems in our mission of serving humanity with Homeopathy & as a result of our herculean efforts – We are blessed to create the Patient Data Management Software (PDMS) - SAI which is a kind of a bridge between all the patients & us, enabling each other to access easily for their speediest possible restoration of health.

For Doctors: SAI is used to mange & overview different consultations happened in a span of one year, enabling us to make a careful individual management of all the cases we have seen.

For Patients: SAI helps the patients to take medicines regularly & also enable them to make Doctor Patient Communications easy & effortless. Courier of the Medicines & its payment information is also managed virtually by SAI only.

For Doctors and Patients: SAI helps Doctor& Patient to remain on the toes giving a very objective & realistic response of our treatment versus payments made in the span on one year.

"You can earn the money once you have lost but you cannot earn the time which you have spent!"

3. Video Consultations with Patients using Skype & Zoom

"Kaizen" is a Japanese word which means "Change with Time!"

With the help of Digital or Virtual Meetings with patients wherever they are in the world, we wish to convey that we are with you unconditionally!

"We may not be able to reach personally to serve suffering citizens of the world but we definitely extend our help through the best use of technology trying to serve the purpose to maximum possible."

4. Android Mobile App for E Learning Course "SHAH"

In the world of Technology, We are trying to create professional information which is authentic, safe and successful after its application clinically, which will be our tribute to the Science & our gift to our beloved coming generations who will serve homeopathy after us, as Science will be always be eternal but we won't. SHAH Aneroid Application can be downloaded from Google Play Store.

Educationally: All the 9 different Homeopathic Courses that are being taught at SHAH shall be in this SHAH Aneroid Application. that can be downloaded from Google Play Store.

Professionally: It will be having a digital version of my book "Homeopathy Patient FAQ – The Untold Story of Homeopathic Consultations" along with crucial clinical information for the successful and strategic management of different type of patients.

5. Academic & Educational of SHAH through Zoom, eztalk, YouTube Live & FaceBook Live

Education is an integral part of every profession and we became good hearers as we were able to find good teachers in our career. To be a teacher is another aspect of healer what the world may not know!

Samuel Hahnemann Academy for Homeopathy – SHAH is doing its regular educational activities for the students staying in different city, state or county using Zoom, FabeBook Live, YouTube Live & eztalk which are the topmost technology used for virtual meetings for educational & professional purposes.